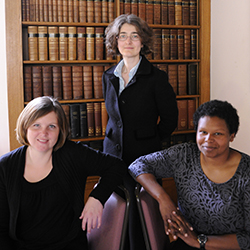 Ceri Benton (University Draftsman)
As University Draftsman, Ceri ensures the enactment of changes to the Statutes and Ordinances of the University resulting from the approval of matters by the Regent House, the Council and other bodies. As part of that role, she composes notices which are circulated to the Council's Business Committee, which in turn approves items for publication in the Reporter on behalf of the Council. She can offer advice on the presentation of Reports, Graces, and Notices (which are published in the Reporter), and on the procedure and timetable for their approval.
Tara Grant and Sadie Byrne (Administrative Officers / Reporter Editors)
Tara and Sadie are responsible for collating, editing, proofing and formatting the weekly editions of the Reporter; they create the Reporter using desktop publishing software, and then process and edit it for publication on the web, as well as sending out the weekly email alert. They also format the Reporter Specials, maintain the Reporter website, and attend, record, and transcribe the fornightly Discussions which are published in the Reporter. Any queries about the Reporter should be directed to them in the first instance.
Julia Copson (Clerk of the Roll of the Regent House)
Julia maintains records for the Roll of the Regent House, and compiles the Roll of the Regent House Reporter Specials each year (both the draft Roll, which is published on 1 October, and its final promulgation in early November). She also collates the Fellows Reporter, annual Faculty Membership lists, and Officers Part I (University Officers) and Officers Parts II and III (Members of University bodies) Special editions of the Reporter.
Delrene Abeysundera (Assistant to the University Draftsman)
Delrene helps check the weekly Reporter drafts, ensuring key information and references are correct.
[From left to right: Sadie, Ceri, Tara]